Mee
t
The Ryan Family
!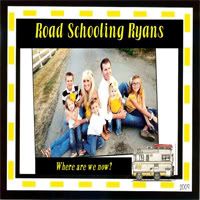 Bridget Ryan and I have been friends since (hold your breath Bridget)...
1992.
That's 18 years!!
Wow.
We both tried out for Flag Team our 7th grade year (and made it) and went on to make the Cheerleading Squad our 9th grade year. Aside from always being teammates and friends, we had another thing in common. We both dated boys (who were also good friends) in the same (older) grade. And even bigger than that, we both ended up having children and marrying those boys... our high school sweethearts.
As most friends, and people do, we moved on... got started with our lives. We were no different, but we did mange to always stay in touch (thank goodness for the internet. lol)
Although we started off in pretty much the same place, we are now in much different places... but nonetheless all good,
very good
places.
Bridget and her family have very recently been 'Homeschooling On The Road'. She has 5 beautiful and adorable children. They have covered most of the western / southern / eastern US. Her blog is an incredible journey through motherhood, and through her amazing life living in Christ. She is by far one of the most inspiring people I know. I couldn't say enough nice things about her. I just absolutely adore her.
Well... it just so happens that she contacted me to see if we were close to where they currently were, and if they could drop by for a visit. (Honestly, they could have been 3 hours away and I'd beg them to come visit. lol) Come to find out they were less than 30 minutes from our house!
They pulled up in the RV and we got to visit for the rest of the day and night.
Did I mention it was our 11th wedding anniversary? What a wonderful gift... thank you Ryan family. For brightening our day, and of course, our lives. We love you!!! xoxoxo